Your personal make-up tutorial with the wonderful Ruby Hammer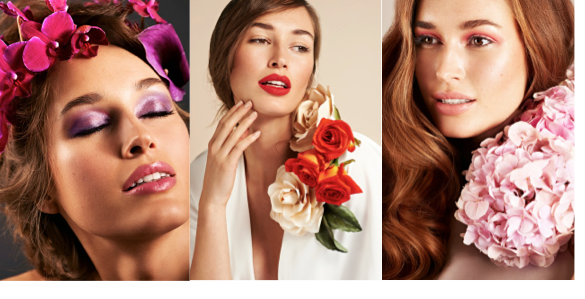 Well, this is quite something. Not every day you get the opportunity of a one-on-one with one of the UK's top make-up artists. But by appointment only, throughout February, Ruby Hammer MBE is now offering spring make-up tutorials based around all the lovely brands showcased in Urban Retreat's make-up department, on Harrods Fifth Floor. From Chantecaille to Surratt, Hourglass to Nars, it's a really good edit – and truly there's nobody better poised to create your new 'face' than Ruby.
Jo went along and got a gorgeous version of the 'Strong Lips' look, above: subtle eyes, great skin and a stunning cherry-red lip. The sessions take place in a screened-off area just by the make-up counters so you can easily peruse the ranges, as the session progresses, and point out to Ruby what catches your eye and you'd like to try. But each season, there are 'key looks'– see some of them above (they include Peach Perfection, Violet Haze, Bronzed Goddess) – and she can also tailor one of these to you, your skin and colouring.
As Ruby explained, 'I like to work with women to find out just what they want. Maybe a skills update, an edit of their make-up bag to identify what's missing, or to find their perfect products from a particular seasonal look.' And while she's worked with just about every photographer and supermodel in the business, Ruby's as down-to-earth, warm and approachable as it gets.
Naturally, this face-to-face doesn't come too cheap: it's priced £500 for a session – but that lasts two full hours and we think is actually an extraordinarily good deal for time with a high-level make-up professional like Ruby.
It's not hard to fritter a sum like that away on make-up mistakes, over a year or two...! Worth every penny, if you have it. And if not? You can still enjoy Urban Retreat's make-up section as your 'beauty playground', or book a Spring 2016 Make-Up Trends Makeover with another of their resident artists, priced £40 for half an hour, redeemable against products purchased on the day...
Ruby Hammer MBE at Urban Retreat To book, call 020-7893 8333