E. Coudray Bath Foaming Cream and Rich Body Cream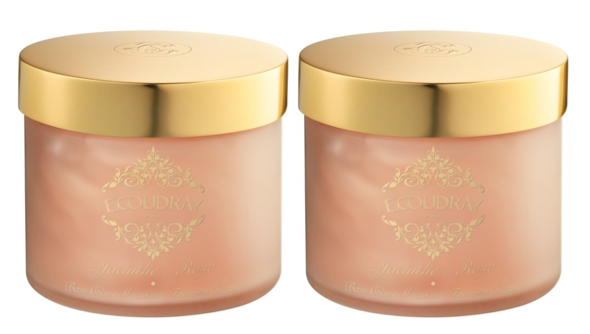 If you've ever felt you need to indulge your feminine side a little more, in this gritty, go-getting world, these are the products to do it with. E. Coudray is a wonderful French heritage fragrance house who've been making delicious scents and body indulgences for almost 200 years: they were famed for their lettuce soap and for scented sachets, and supplied their wares to the crowned heads of Europe, including Queen Victoria. (You might want to read more about their fascinating heritage on The Perfume Society website, here.)
The fragrances are delightfully 'nostalgic' without being in the least old-fashioned. And when it comes to sheer indulgence, these are luscious and sublime. Add a swirl of the Bath Foaming Cream to running water, and it'll soon fill the bathroom with a miasma of scented deliciousness. (Our current favourite fragrance is the sweet Oriental Ambre et Vanilla). Pat skin dry and follow with a generous slathering of E. Coudray Rich Body Cream (the buttery feel and fragrance of which truly lives up to its name), and if images of boudoirs and swags of roses and romantic background music don't come to mind, we'll be rather surprised.
They're available, you might like to know, in six different scents: in addition to Ambre et Vanille, enjoy Givrine (a graceful floral), Iris Rose, Jacinthe & Rose (hyacinth/rose), Musc & Freesia and Vanille et Coco (coconut and vanilla).
Total treats, the lot of them – and quite the antidote to modern life.
E. Coudray Bath Foaming Cream/£29.50 for 250 ml and E. Coudray Rich Body Cream/£36 for 250 ml at www.roullierwhite.com