Bee Good Youth Enhancing Hydrate, Smooth & Prime Serum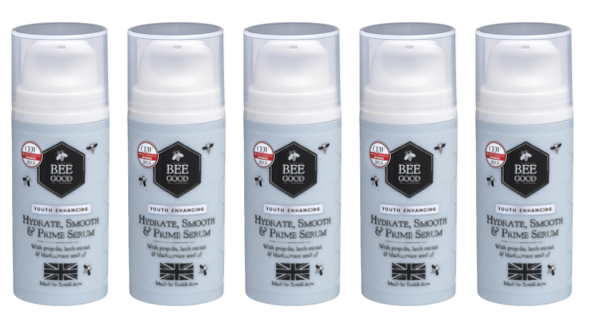 The word 'serum' seems to be taken as a license by some skincare brands to slap a hefty price tag on a product which, for many women, is an 'extra' rather than an essential. As a result, we know plenty of women who spurn serums altogether – when actually, they can be very effective. Because of the way serums are formulated, they can be packed with actives. What tends to be left out is moisturisation. So there are two reasons we're keen on this serum, from Bee Good: a name which last year scooped 'Best New Brand (Mass)' in the 2105 Cosmetic Executive Women Awards, voted on by industry insiders.
First off, the price: £25 is pretty good value, serum-wise, for what's inside: collagen-stimulating peptides, British honey and antioxidant-rich propolis, blackcurrant seed oil (for firming), among other skin-savers.
Secondly, importantly, although probably not quite moisturising enough on its own (unless you've got really oily skin), it leaves skin feeling pleasantly plumped as well as glow-y and radiant. (Many serums make skin matte and almost dry to the touch, we've found.)
Thirdly? We like that this UK brand supports British agriculture – and bees, which you can read more about on their website www.beegood.co.uk.
Bee Good Youth Enhancing Hydrate, Smooth & Prime Serum/£25 for 30ml at www.lovelula.com