Win gorgeous nails with Mavala's polishes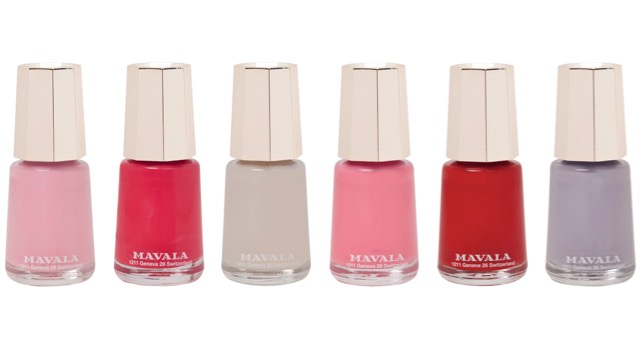 We have 12 sets of Mavala's fabulous First Class Collection – six luscious shades that live up to their name, with each set worth £29.70... Mavala has been a trusted ally for our fragile fingertips since our teenage days. Now with an amazing half century of expertise under its belt, Mavala is still looking after our hands and nails with flair and finesse.
As they say, 'long or short, nails should be impeccable'. So it's confession time at Beauty Bible HQ. We love nothing more than glossy, well-kept nails but sometimes fall – ahem – short, not to mention scuzzy due to gardening, riding and handling paper and cardboard – all sworn enemies of impeccable fingernails. (On a really Bad Nail Day, Sarah has been known to sit on her hands at meetings….)
But this prize draw inspired us to line up our nail kits on our kitchen tables and Abracadabra! it really is possible to have flaunt-worthy hands with a little time, TLC and these lovely new colours from Mavala.
The Mavala First Class Collection is six shades inspired by summer, each named after a temptingly exotic holiday destination. But the collection does beautifully for any season actually – as the colours range from Spitzberg (an icy rose white) and Cortina (a soft grey mauve) to subtle pinky-orange Tahiti, flowery pink Fiji, soft rosy coral Long Island and vibrant red Cape Town.
A word too about the coverage: it's called Nail Color Cream and it truly is creamy, covering perfectly with two coats. Toes look fabulous too, either matchy matchy – or two different shades. The range is free from potentially harmful ingredients including formaldehydes, toluene, camphor and heavy metals.
So… to have a chance of winning a set of Mavala's First Class Collection of six Nail Color Creams, each set worth £29.70, simply fill in the form below. But if you would like to order a set now, or find out more information, visit www.mavala.co.uk.
[contact-form-7 id="32710" title="Prize_Draw_228_Mavala_with_tickbox"]
Prize draw closes on Wednesday 20th September 2017